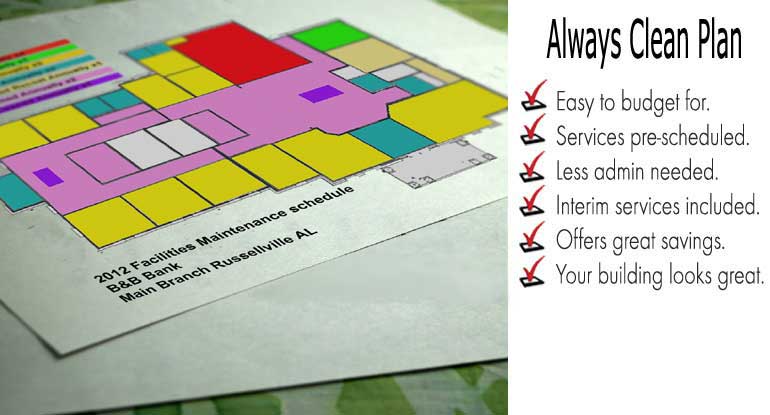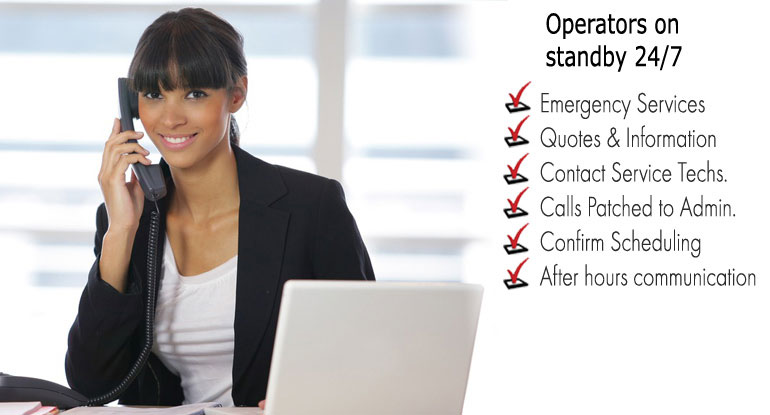 Purpose of Cleaning and Maintenance

Your commercial flooring installation and upholstery is a significant investment, both in monetary terms and overall facility image. The need to implement a maintenance program from the beginning is very important. A consistent and effective maintenance program can maintain the initial facility image and dramatically extend the life of your monetary investment. Bamaclean's goal is to assist you in preserving the original appearance of your commercial floors and upholstery. There are many valuable reasons we clean or maintain any object, including carpet, upholstery and hard surfaces.


There are many valuable reasons we clean or maintain any object, including carpet. The incentive for an effective cleaning and maintenance program is magnified when we recognize these activities contribute to the following:
Allows for the healthy reuse of space and materials
Maintains the value of property and reduces the rate of depreciation
Accents aesthetics
Creates a unique psychology that enhances quality of life
Ensures sanitation – reduces adverse exposure levels
Serves as a form of insurance that reduces risk and prevents crisis
Encourages topophilia (affection for place)
Elevates a sense of well being which is the essence of good health
Contributes directly to personal security, comfort, and productivity
Sends caring messages and image
Promotes human dignity
Manages waste and hazards and contributes to environmental protection
Step 1: Insist on a Walk-Through
Every building is different. Cleaning service companies that make bids based on square footage of an office aren't taking into account how that space is being used and may overlook important site variables. For example, a roomful of cubicles requires a different level of services than an office lobby, the president's office, or a computer center. Skipping an onsite walk-through usually yields an inaccurate bid that will most likely result in a change order.
Step 2: Request Credentials & References
Credentials: If you are considering a cleaning company the companies credentials are probably the most important item of the proposal you need to confirm. The quality of services and other performance concerns are usually easily addressed if not up to par. But you can face some serious and costly situations by hiring an unlicensed, uninsured or inexperienced company. Cleaning bids should be accompanied by a current General liability and workers compensation insurance certificates as well as an employee dishonesty bond. In addition to insurance coverage a current business license and E-verify MOU certificate should be attached. All of these items should be presented with the bid upfront. Insurance, licensing all very important but how do you determine the experience of a cleaning company? The Institute of Inspection, Cleaning and Restoration Certification, more commonly known as the IICRC, is a certification and standard-setting non-profit organization for the inspection, cleaning, and restoration industries. A company that has gone through the IICRC training and certification program shows that they are committed to excellence in their field.

References: Do the cleaning service companies you are considering have experience with commercial cleaning or office cleaning? Some companies service homes, not businesses. Others are start-up businesses with little industry knowledge. The best option is to go with a cleaning company with decades of experience that knows what it takes to maintain an office building that fosters productivity and a positive image. Reputable firms will happily supply contact information of customers with needs similar to yours.
Step 3: Compare Apples to Apples…
If you're choosing among several cleaning service companies, remember that price is irrelevant if it results in low quality services. When you're comparing cleaning service companies, review all of the specifications in the proposal – such as cleaning method, time needed to perform services, scheduling requirements, is the application of carpet and fabric protectors included— Most cleaning bids are usually pretty consistent when it comes to cost but it's not uncommon for them vary greatly in convenience, service specs, quality and the credentials offered by the companies presenting them. .
Step 4: Convenience
Meet Your Scheduling needs: You may have a high use facility that may have a very limited window of time in which to perform cleaning services. This may require work to be performed on weekends, nights or holidays. Carpets, upholstery and other materials will need to be dry and ready for use in a short time period. Confirm that your cleaning company has experience and a proven track record in fulfilling these requirements if needed.

Direct Lines Of Communication: Emergencies happen. When you need to make a distress call in the middle of the night or on a holiday weekend, will you get an answering service or your account rep? Look for cleaning service companies that offer direct phone access to account managers all day, every day, who will dispatch a task force to your location within minutes, not days.

Payment Options: Cash, credit card, check, net 30 or C.O.D. Method of payment should be clearly noted to avoid and misunderstandings.
It's Not Clean Until It's Bamaclean!
Bamaclean employes several methods and techniques within its facilities cleaning services as well as maintenance plans that can be customized to your buildings specific needs.
Contact us today to schedule a free onsite evaluation and demonstration.
Free No Obligation Flooring Assessment
Onsite Visit
Full assessment of your floorings cleaning and restoration needs.
Establish the facilities service needs & customer goals.
Collect detailed measurements & number of units to be cleaned.
Determine flooring materials, fiber composition and condition.
Assess buildings soil load & current cleaning programs.
Determine materials manufacture warranty requirements.
Plan & Proposal
Develope a custom service plan to meet your facilities specific needs.
Detailed, itemized bid with a clear scope of work & service frequency.
Prepare a custom color coded cleaning frequency site map.
Our plan will not void manufacture warranties.
Our plan will meet or exceed industry standards.
Our plan will strictly follow manufacture recommendations.
Ongoing Support
Before, during and after the sale, we are here for you.
Additional Benefits
Maximize your investment with our textile protection program. More Info.
Carpet, Tile, Hardwood, Stone, Vinyl, Upholstery and more... We have you covered. More Info.
High-Capacity-Large scale mobile cleaning plants. Equipment matters. More Info.